Website Design & Management Services
 One monthly price for all your website and management services
Southern Oregon's Web Designer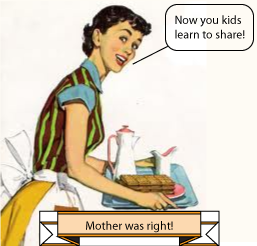 Some of the most interesting technologies today are about sharing! Sharing your content, your products, your business is critical in today's fast moving market.
The web is a very fluid place, it's fluid and moves fast with continual updates and changes. If you're in business today then your business must be nimble and move as the market moves.
Whatever your business the one thing you want to do is maintain your website so it reflects who you are and what you do!  
Because if you have a vision, product, or business, then you want to share this news with your customers and clients.
 We design websites and applications with sharing in mind so that you reach your market and your audience! We specialize in ongoing management of your business website so you don't have to! 
Because mom was right we need to share
Website design and management services in the Rogue Valley since 2009.
 ARE YOU DESIGNING FOR MOBILE?
Today's websites will be viewed on a mobile device of some kind. If your site doesn't work on mobile
it doesn't work, and you are missing a very important market segment.
Approximately 30% of all traffic on the web is driven by mobile technologies and that number is increasing daily.
If you are not designing with mobile in mind it's time to talk to us
OUR WEBSITES ARE MOBILE FRIENDLY
Our user interfaces are built with mobile devices in mind and tested against iPads, Cell Phones, and other mobile devices
The Tech and I believe in progressive enhancement
What is Progressive Enhancement?
Progressive Enhancement is designing with semantics in mind, we emphasize accessibility using external stylesheets
and scripting technologies that work across devices and platforms.
Content Development
Website Hosting
Website Planning
Digital Strategies for your Website
Content Management Systems
Mobile Design
Twitter
Facebook
LinkedIn
Special Campaign Management
SEO
Pinterest 
Data Solutions
Management and website update services
Security
Application Installs
WordPress and Theme development
PHP and Programming solutions
Choose a WordPress Template and let us customize it for you
We can help with WordPress theme creation, implementation, and other PHP Content Management Systems.
Don't wait another day for a website that works for you!
Call or contact us now
for
Is your site mobile friendly?
Let us help make your site mobile friendly
Website hosting, design, and management services serving the Rogue Valley since 2009!