You hear a lot of talk about search engine optimization now days.
Just stick the term "SEO" into any search engine and you'll get thousands of results or hits.
But what is SEO? And how can you use the principles and ideas behind good SEO to create traffic for your site?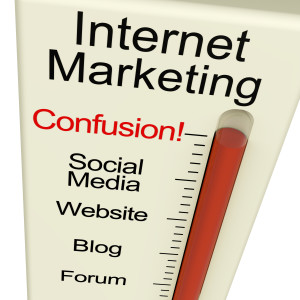 a few things first..
In most website projects there will be three main areas of concentration, the look and feel of a site, optimization for your target audience, and engaging in and building social awareness for your brand, service, or business.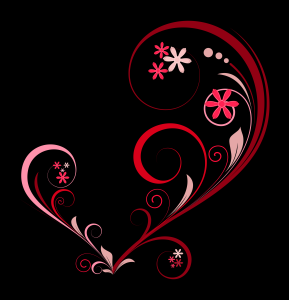 The look and feel of the site
This includes such things as colors, themes, and other visual and aesthetic design choices that have to do with an artistic view of the site – the visual look and feel of the site is what provides the very first impression of the site to your visitor when they first arrive. A good design should flow and have an intuitive interface,  it should also look and feel good!  Images, colors, and visual cues present us with emotional content that is difficult to measure but we all know when we see something that looks right. The overall theme or look of your site sets the tone of your website.
Today you need to design your site so it looks good, feels good, and functions well! This can be difficult, today's websites must be viewed on many screen sizes and shapes. Your message must be communicated across different platforms and devices. Communication can be difficult, communicating via the web is an art as well as a science and the look and feel of your site plays a very important role in the successful communication of your message.
Finding the look that represents you, that you feel comfortable with is personal and important.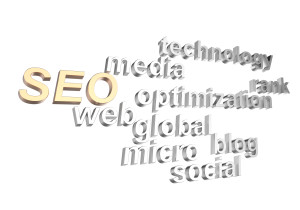 SEO is the actual  process of garnering back-links, using keywords, and defining content that matches your site's purpose and optimizes the site
SEO involves analyzing and considering your site as it relates to the purpose of your site. You have a website for a reason SEO is the way you communicate that reason on the internet. The various tools include using backlinks which are links from other sites to your site, links to your site from other sites add authority to your site. Keywords are search terms someone may input into a search engine to find you. I like the definition found on WikiPedia "Keywords are the words that academics use to reveal the internal structure of an author's reasoning." Keywords are words you use on your site to reveal the structure and purpose for your overall site."
Defining content is the process of using content that flows with your site's purpose. During this process you setup your ability to track and measure what your site does. Using tools such as Bing's Webtools, or Google Analytics and Google's Webmaster tools, you determine content, links, headings, and optimization techniques that will enable you to reach the top of search engine ranking.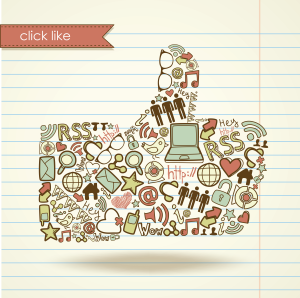 Social media coordination and online brand building and marketing; today you have to embrace social marketing to be successful
Optimizing your site so that it is found is important. But today's websites are not islands to themselves! They are part of an interconnected group of entities that determines and contributes to your Net Presence. Owning keywords and driving traffic to your site is important but the need to interface with your clients via social media is becoming a critical part of the SEO of most sites today. Obviously this is truer for some business models than for others.
However if you ignore social media in the design and build of your website you may be missing out on a wonderful way to serve your market and grow your business.
Getting them to your site is important, keeping them there is just as important. And social media can help. And today Social Media and advanced sharing is an integral part of search engine optimization
So how do we do these things, what are our tools, what works and what doesn't work? These are important questions and what you use, what you choose, will be determined by many things.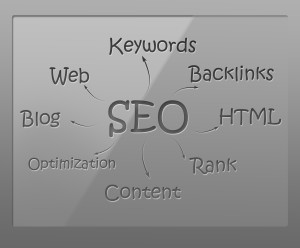 SEO: 
Search engine optimization can take many forms and can involve a lot of planning and expense depending on what you are hoping to achieve. For most people SEO success means getting to the top of search engine rankings, and this means having your website show up when someone types a word, term, or phrase into their search engine. Because search engines respond to searches and searches are semantic, in order to get to the top of a search engine's site means aligning your site so that when someone uses a search term, keyword or phrase, your site comes up.
Which is why "Content is King" is so true when it comes to SEO – good and relevant content is what drives searches, and good content will help your site's rating.
SEO can be measured using tools like Google Analytics which counts hits, and other metrics and browsing habits of those visiting your site. But Google and Bing may change the algorithm used to measure a site's index rating. What works today may not be effective next week or next month? The new social media landscape has changed search engine optimization almost overnight. Today we hear the term Organic search, and this term has various meanings but in essence it points towards a trend of trying to determine what you are searching from based on a lot more information than just the keyword you are using.
Your website is Central Station, it connects and joins you to other mediums, from Facebook to Email, your website is the final stop you want people to make.
Today you not only need backlinks to add authority to your site you also need to have entities pointing to your site to advance in search rankings. This used to mean other websites but today it can mean Facebook pages, Twitter , Pinterest, even reviews! Any of the many social networking tools that are dominating today's netscape that point to you are important to manage and plan for.
All search engines look at and measure the number of real links that link to your site, but if those sites match what you do or what your site is about then the ranking will be higher. In other words a website that sells automotive parts and that has a lot of sites selling clothing pointing to it may raise flags, or simply not factor into your ranking.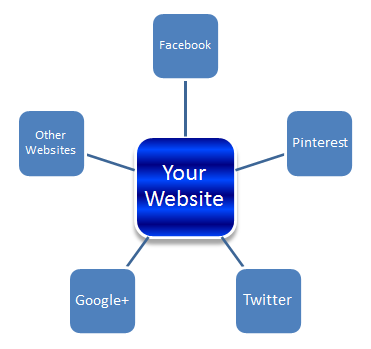 Pay Per Click Campaigns
PPC advertising is one of the few ways to actually measure SEO work and success, though not the only way. By using pay per click, you can show a direct correlation between keywords, landing pages, ad copy, and page ranking, then you can use these measures to count conversions.
PPC can add a concrete method of holding your SEO developer accountable. Many marketers focus on these concrete measuring tools as a way to determine the success of their marketing budgets. But PPC should be approached from holistic point of view, that is it's part of a greater effort that involves website design, landing pages, keywords, social marketing, and content.
Look at it as a sort of convergence of various fields creating a whole greater than the sum of it's parts.
SEO is not just PPC or keywords or phrases, it's an approach that envelops the whole of website design. And more often than not form follows function! For example many years ago many website designers didn't bother designing for the disabled or the blind. Websites often placed images on their sites without alt tags (tags that can be read by screen-readers) they figured the cost and time it took to do this just didn't pay off.  As the web matured though websites that had used alt tags and designers that had designed their sites for more than one device (a screen reader and a monitor) were more accessible and thus more optimized.
Today successful website design incorporates the very essence of design with accessibility in mind because sites that are more accessible are ranked higher!
So just having a website that looks good does not guarantee success. Yes it's important, it critical even in some instances, but it's just one part of the picture.
So just having a website that looks good does not guarantee success.  Yes it's important, critical in most instances, but it's just one part of the picture.
Landing Pages
What is a landing page? A landing page is a page that is designed around a certain term or search phrase. So if you enter the term "Cotton Balls" into your favorite search engine and you click on one of the first hits that come up, say "A Drug Store" you end up on a page that is about Cotton Balls and not the Store's contact page or About Us page.
You build a landing page around keywords and phrases that most likely appear and are most likely to be used when people are searching for your services or products. So it's important to understand what terms people might use when seeking you out.
PPC campaigns take thought, careful planning, and a budget.
So how do you bid on keywords. Basically you bid on what you think people will put into a search engine when looking for your services. You can hire someone to do this or you can go to Google, Bing, or some other service and bid yourself on what you think are vital keywords.
If you are a plastic surgeon you might bid on terms such as "breast augmentation" or "face lifts" if you are a dentist you might bid on terms like "Tooth Whitening" or "Root Canals." Keywords take time and research and they vary depending on what area you live in.
The idea of PPC is pretty simple: Search engines like Google and Bing allow businesses and individuals to buy listings in their search results. These listings appear along with the natural, non-paid search results called Organic search results.
If I search for doctors, all the doctors who paid Google or Bing to be listed will appear first, they are colored or it there is an indication that they are paid results for the keyword you used.
Website design and optimization is about aligning your websites content so that it meets the criteria set by search engines to rank as important and that requires you to plan your website carefully.
Contact us today for more information!